Enter the 2019 Annual Conflict Resolution Day Bookmark Art Contest
In observance of National Conflict Resolution Day on Oct. 17, 2019, the Maryland Judiciary's Mediation and Conflict Resolution Office (MACRO) is seeking entries for the 14th annual Conflict Resolution Day Bookmark Art Contest. The contest is open to all Maryland students in kindergarten through eighth grade.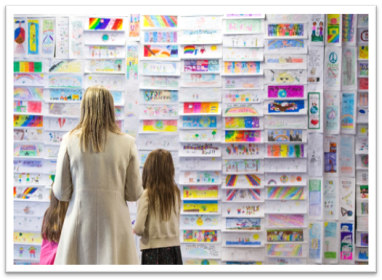 The top 1,000 entries will be displayed at the new Maryland Judicial Center (MJC) in Annapolis. Winning students and their families will be invited to the awards ceremony and reception on Dec. 5, 2019, at the MJC, where Maryland Court of Appeals Chief Judge Mary Ellen Barbera will present the awards.
Grade Levels and Judging Criteria: Art will be judged in three categories: kindergarten through second grade; third through fifth grade; and sixth through eighth grade. Students who are homeschooled are welcome to participate. Submissions will be judged on artistry, creativity, and message.
Prizes: The following prizes will be awarded for each category: 
1st Place: Winner will receive $75.00. 
2nd Place: Winner will receive $50.00.
3rd Place: Winner will receive $25.00. 
Several winning entries will be printed as bookmarks and used to promote conflict resolution across Maryland. Winners whose bookmarks are selected for printing will receive copies of their own printed entry.
To Enter: Submit original artwork using the template provided (see link below) or submit your artwork on plain white paper. The finished image size must be no larger than 3 inches high by 8 inches wide. Please be sure to label your artwork, using the label provided on the template, or the back of the entry if the template is not used. The label should include: the student's name, age and grade; school or program name, if appropriate; teacher's or parent's name; email address; and a mailing address where we can return the entry after the contest is complete. Please do not fold entries.
Download this Template:  Word file (.docx)
Theme: Subject matter should reflect a conflict resolution or prevention theme, such as peer mediation, talking things out, apologizing, respecting differences, solving problems together, listening, diversity and inclusion, peace building, or alternatives to violence. To see images of past winners, visit: https://www.mdcourts.gov/macro/eventsconflictresolutiondayarchive.
Deadline: All submissions must be received by Thursday, Oct. 17.
Artwork should be mailed or hand-delivered to:
MACRO
Attn: Cheryl Jackson
2001 Commerce Park Drive
Suite C
Annapolis, MD 21401

Please email cheryl.jackson@mdcourts.gov or call 410-260-3540 with any questions. 
By submitting a bookmark entry in this contest, you give the Maryland Judiciary permission to use the artwork in any future public awareness materials promoting conflict resolution.