Annual Conflict Resolution Day
Bookmark Art Contest

The Maryland Judiciary's Mediation and Conflict Resolution Office (MACRO) observes Conflict Resolution Day, the third Thursday in October, by hosting a bookmark design contest for Maryland students in grades K-8. The contest provides teachers, parents, and students the opportunity to learn about and share important conflict resolution skills, such as: listening; working together to solve problems; talking to each other instead of fighting; being inclusive; and appreciating and respecting our differences. This is a wonderful opportunity for students to use their artistic skills to illustrate their own creative ideas.
The contest includes three age groups: kindergarten through second grade, third through fifth grade, and sixth through eighth grade. Entries are judged on both artistic merit and their peaceful conflict resolution messages. The contest has grown since it began in 2005 with fewer than 40 entries. MACRO typically receives more than 2,000 entries each year from all across Maryland.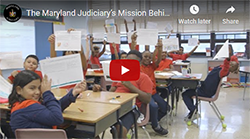 Interested in participating?
MACRO encourages schools, families, and community organizations to participate. If you would like to learn more about this contest, or be placed on our list to receive our annual email notices, feel free to send your contact information to bookmarkcontest@mdcourts.gov.
A limited number of printed bookmarks are available to schools, libraries, and other organizations throughout the state. If you would like copies to distribute in your community, through your organization, or at your workplace, please make your request at
macro@mdcourts.gov
.
Copies are available while supplies last.
See our past contest winners.