If you want to be a mediator in Maryland, we recommend you consider where and how you want to practice. For example, do you want to mediate in the courts, or as a private practitioner, or for a community mediation center. Another good starting point is finding and completing a 40- to 50-hour basic mediation training course. This is also good advice for anyone interested in mediation as a career. This training is a requirement of Maryland Rule 17-104 for mediating in the courts. There are additional requirements to be placed on court rosters, and those can be found in Rules 17-205 (circuit courts) and 17-304 (District Court). (See also the application forms below.)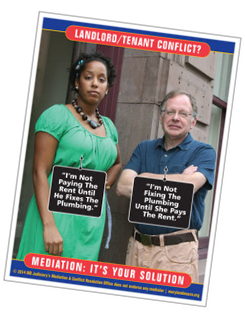 Mediation Frameworks in Maryland 
Another consideration you have is choosing which framework you want to use for your practice. There are a variety of mediation frameworks practiced in Maryland and beyond. Generally, a mediation framework describes the skills and techniques a mediator might use while mediating. Click here to see a description of the predominant frameworks practiced in Maryland.
Finding a Trainer 
Mediation courses are offered by private trainers, community colleges, and bar associations. Various trainers teach from the different mediation frameworks, which is why an understanding of those frameworks might be useful in determining which training is for you.  To learn more about trainings, visit the MPME calendar of events.
If you want to be a mediator in your community, you can apply to take mediation training provided by your local community mediation center. You can find a list of Community Mediation Centers here.
What's Next? 
Becoming a skilled mediator requires more than basic training; it requires experience, feedback, and continuing education. Some conflicts may require advanced training such as Parent Plan, Divorce, and Child in Need of Assistance (CINA), to name a few. After you have taken a Basic Mediation training, the next best steps are to:
Mediate, co-mediate, and observe other mediators (ask your trainer where these opportunities exist).
Look for opportunities to mediate with the District Court of Maryland and Community Mediation Centers. However, please be aware that these opportunities are not always readily available. Contact your local program to find out more.
Network
Join the Maryland Program for Mediator Excellence (MPME)
Join one or more local and national practitioner organizations.
For your convenience, links to additional information about being included on a roster for the District Court or circuit courts in Maryland are listed below.
Mediator Certification 
"Certification" means that a public or private entity with criteria for certifying mediators has determined that the mediator meets those criteria. Different entities certify mediators based on different criteria, which may include observation and assessment of the mediator's skills ("performance based certification"), a review of the mediator's training and experience ("paper based certification"), or both. Obtaining a certificate of completion of a mediation training does not constitute certification as a mediator.
Both the Maryland Council for Dispute Resolution (MCDR) and Community Mediation Maryland (CMM) offer performance-based certification programs in Maryland. The Institute for the Study of Conflict Transformation (ISCT) also offers a performance-based certification program nationally.
Generally, mediators seek experience and continuing education before pursuing a certification.
Downloadable Alternative Dispute Resolution Application Forms (PDFs)
__________________________________________________________________
Apply to be listed as a Mediator on a roster for the circuit courts.       Application
Apply to be a Mediator in the Business and Technology                 Application
Case Management Program in the circuit courts.
Apply to be listed as an ADR Service Provider (including mediator,        Application
settlement conference facilitator, neutral case evaluator, and/or
neutral fact-finder) for the Health Care Malpractice ADR Program.
Apply to be added to the roster of Mediators and Settlement          Application
Conference Attorneys in the District Court of Maryland. 
Apply to be an ADR Practitioner providing Non-Mediator ADR Services     Application
in the Circuit Courts             
------------
For more information about being a mediator in Maryland, please go to the
Maryland Program for Mediator Excellence site.